PRODUCE, STREAM & RECORD WITH VMIX
vMix is live streaming and production software that allows you to create professional quality productions on your own computer. vMix gives you the power to add multiple cameras, videos, NDI sources, remote guests using vMix Call, images, audio, web streams, Powerpoint, titles, virtual sets, chroma key, and much more to your production. You are then able to display, record and live stream your production all at the same time!
Production large or small? vMix does it all!
vMix can be used in large scale multi-camera events or simple one person webcam productions. Whether you're producing network TV, online talk shows, Church services, esports tournaments or perhaps just sharing your thoughts live to your YouTube channel... vMix is a great option! You can use vMix to power your entire your production or just use certain features to elevate your existing workflow.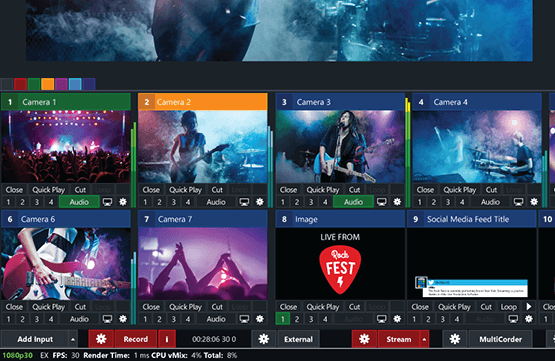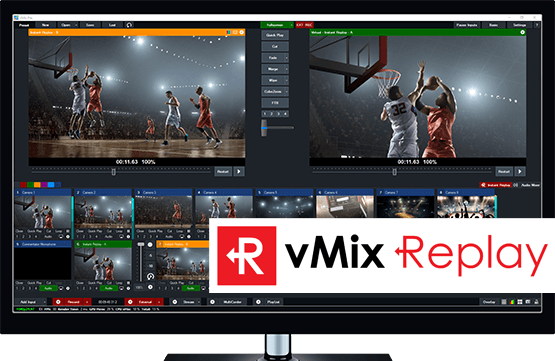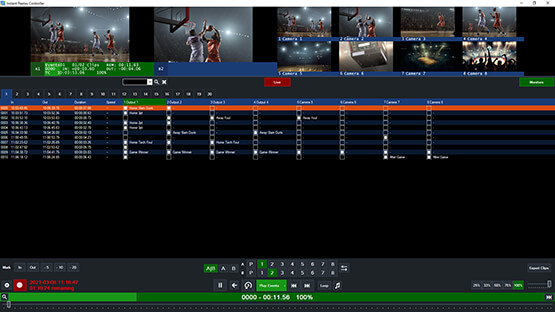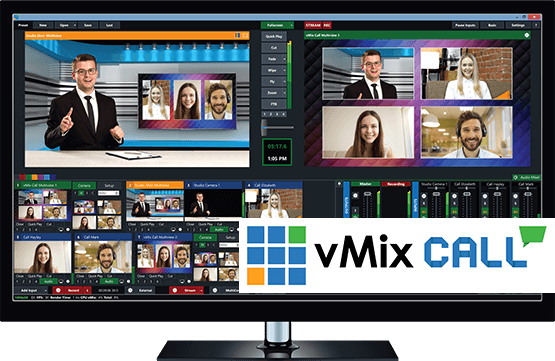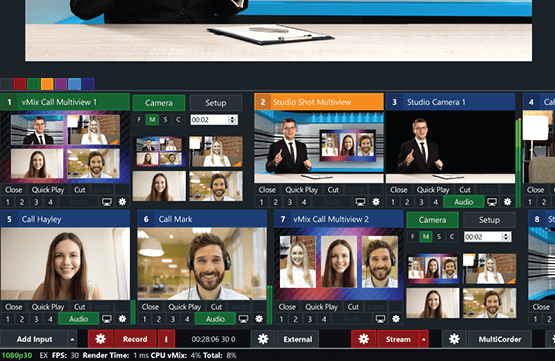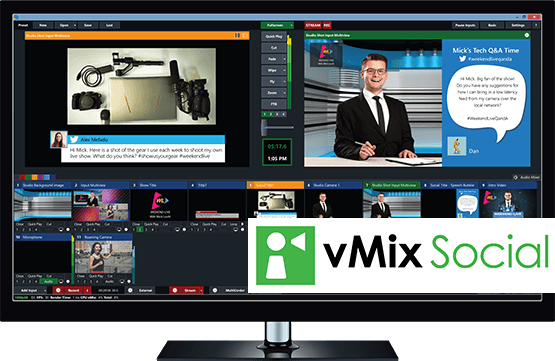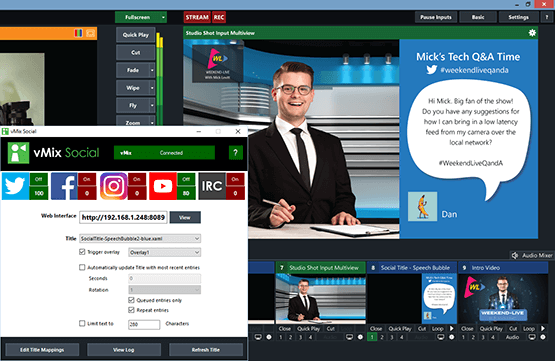 Flexible purchasing options
You can purchase vMix outright from our website and use it for as long you like. With this purchase you also receive 12 months of free version updates. After the 12 months, it's just $60 to update if you wanted to have the latest and greatest version. We also offer a subscription option called vMix Max which has all the features of vMix PRO for $50 per month. To find out more about prices, check out our Purchase page.
Try it out for free!
We have a free fully functional 60 day trial that allows you to test out vMix. You can record, stream and display your production without any watermarks!
Visit our Download page to try the Free 60 Day Trial.
CREATE YOUR OWN LIVE PRODUCTIONS
vMix gives you the flexibility to be your own producer and create your own live productions and streams.
There are so many different types of inputs available to your vMix production to help make the best live production you can! You can switch between cameras, NDI sources, live guests using vMix Call, video files, images, and much more.
Use cinema cameras, handycams/camcorders, PTZ cameras, IP cameras and webcams in SD, HD or 4K!

vMix supports the latest PCIe, Thunderbolt and USB capture devices from all your favourite manufacturers. Including Blackmagic Design, AJA, Magewell, Elgato and many more. You can capture audio in vMix via USB, ASIO or soundcards.

Create dynamic productions with live guests, NDI sources, videos, images, desktop capture, SRT feeds and much more. Build and animate custom titles through the vMix GT Titler and also use data driven content through vMix Data Sources!

Produce

Overlay titles and graphics
Mix & switch content
Interact with Video Calls (vMix Call)
Monitor and mix audio
Instant Replay (4K and Pro)
Engage

with

audience via vMix Social

Record your live production in a variety of high-quality formats. ISO record your camera sources using the vMix Multicorder in vMix 4K and PRO for easy post-production.

Stream your production to multiple destinations easily with vMix. Start streaming to your favourite streaming providers like Facebook, YouTube, Twitch, Vimeo and more... with just a couple of clicks.

Send your finished live productions out to monitors, projectors and TVs for quick and easy viewing. Utilise NDI to output your production, audio and individual cameras to other productions for real time collaboration. With full support for SRT, vMix can be used to output video to anywhere in the world. For the professional, vMix supports SDI output for use in other productions or equipment.
[ + Click to enlarge infographic ]